V Rising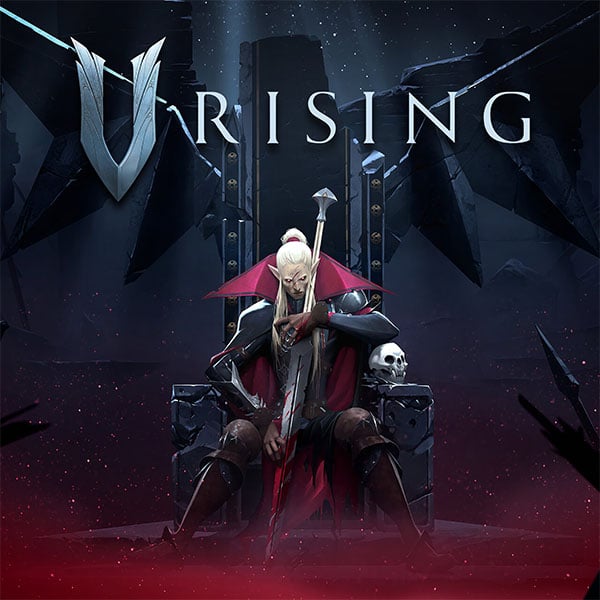 Developer: Stunlock Studios
Publisher: Stunlock Studios
Release Date: 17 May, 2022
Genre: Open World, Survival
Platforms: Microsoft Windows
V Rising from Stunlock Studios is an online, open-world Vampire survival game. As a vampire, you rise from the ashes and seek blood from unwary communities dispersed over a fascinating terrain called Vardoran. As you try to reclaim control and conquer the land of the living, build a castle, explore new technology, avoid the searing sun, and team up with allies.
About the Developer and Publisher Stunlock Studios
Stunlock Studios is a Skövde, Sweden-based video game studio founded in 2010 and situated in the city. The Battlerite series, released in November 2017, and V Rising, released as an early access game in May 2022, are the company's best-known video games. By 2021, Tencent, a Chinese firm, had purchased a majority stake in Stunlock Studios.
V Rising System Requirements
You need at least an Intel Core i5-6600, 3.3 GHz or AMD Ryzen 5 1500X with NVIDIA GeForce GTX 750 Ti, 2 GB or AMD Radeon R7 360, 2 GB to run V Rising. However, you would want at least an Intel Core i5-11600K or AMD Ryzen 5 5600X, combined with an NVIDIA GeForce GTX 1070, 8 GB or AMD Radeon RX 590, 8 GB for the best gaming experience.
Minimum
OS: Windows 10 64 bit
Processor: Intel Core i5-6600, 3.3 GHz or AMD Ryzen 5 1500X, 3.5 GHz
Memory: 12 GB RAM
Graphics: NVIDIA GeForce GTX 750 Ti, 2 GB or AMD Radeon R7 360, 2 GB
Storage: 7 GB available space
Recommended
OS: Windows 10 64 bit
Processor: Intel Core i5-11600K, 3.9 GHz or AMD Ryzen 5 5600X, 3.7 GHz
Memory: 12 GB RAM
Graphics: NVIDIA GeForce GTX 1070, 8 GB or AMD Radeon RX 590, 8 GB
Storage: 50 GB available space
If your existing gaming laptop doesn't meet the requirements and you need a new one, feel free to check on our guide about the best laptops for V Rising.
Gameplay
Set in an open environment, V Rising is a settlement construction and survival game. The player plays newly revived vampires. By gathering resources, the player can create better materials and stuff to use in their personal castle. However, they must first defeat their adversaries to gain access to new skills and technology. Vampires must also feed on victims to keep their blood levels up.
Blood is the lifeblood of your vampire, and you'll need plenty of it to make it through V Rising. If you kill an enemy, your inventory will fill up with blood essence orbs.
Day/Night Cycle
In V Rising, there is a Day/Night cycle that can be deadly if you don't understand its mechanics. You're a vampire, and sunlight can be your deadliest enemy. For vampires, the effects of sun damage can be devastating.
This is a crucial part of V Rising's gameplay, and failing to master it will lead to a disproportionate number of early deaths. Over time, the sun's rays will do a lot of damage to your body until you die. Standing in direct sunlight will cause a ring of sparks and smoke to form around your avatar. Your character will be bathed in the sunshine after a short time. The damage begins to pile up as soon as this happens.
There are a few ways to avoid sun exposure, such as shades, coffins, Mist Braziers, Castles, and sun resistance items (a cloak).
Game Modes
PvE (Player vs. Environment)
Vampires from all across the world come together to regain Vardoran in these sacred lands. You can either go it alone or form a group of up to four vampires to take on the world.
PvP (Player vs. Player)
Vampires battle for power in these war-torn lands as they recapture Vardoran. Players may engage in sieges and raids on one other's castles. Join a clan of up to four vampires to gain allies in the game of blood and vampire power as you grow your realm.
Full Loot PvP
Vampires fight for control of Vardoran in these wild lands. You'll lose everything you've earned if you don't take the risk in every encounter. It is not uncommon for players to attack another's castle to steal valuables from it, conquer it, or even utterly destroy it. Join a vampire clan of up to four others to increase your chances of surviving.
Duo PvP
Vampires battle for power as they recapture Vardoran. Players may raid each other's castles from time to time for supplies. You can either rise on your own or join forces with another vampire to take over the world.
Journal Quests
V Rising has a series of Journal Quests that appear in the upper left corner of the game, which you must complete.
Even though these Quests may appear optional, they serve as a lengthy tutorial process that will guide you through the majority of the game, teaching you new mechanics as they are unlocked. Because V Rising doesn't necessarily explain this very well, if you're having trouble understanding the function of any structure or mechanic, you haven't yet completed the quests required to learn more about it.
Vardoran
Vardoran in V Rising is an enormous map that is now divided into five distinct regions: Farbane Woods, Dunley Farmlands, Silverlight Hills and Cursed Forests. However, for the time being, these are the only zones you can visit and each one has its own unique set of dangers, rewards, and level requirements.
As you progress through the levels, the challenge of each of these regions increases, allowing you to explore more of the map as your vampire's might grows.
Vampire Waygate
V Rising has a fast travel system that acts like a traditional MMORPG's MMORPG travel system. Vampire Waygates are dispersed over the map and can be used to quickly travel to other Waygates you've found.
The green house symbols representing the Waygates can be found on the map. Once you find one, it will be permanently highlighted on your map so that you can know precisely how far away you are from any given Waygate on the map. Because each vampire Waygate has a unique name, it's much easier to track where you are at all times. Fast travel across the map is possible with the Waygates, but one important consideration is to keep in mind.
V Rising News and Guides
Are you looking for a new laptop to play V Rising, and are you unsure…
To play V Rising video game smoothly without any stuttering, your gaming PC or a…