As being part of Amazon Associates, we may get paid if you buy something through links on our site.
Ares Galaxy Team
Our Most Anticipated Games of January and February 2021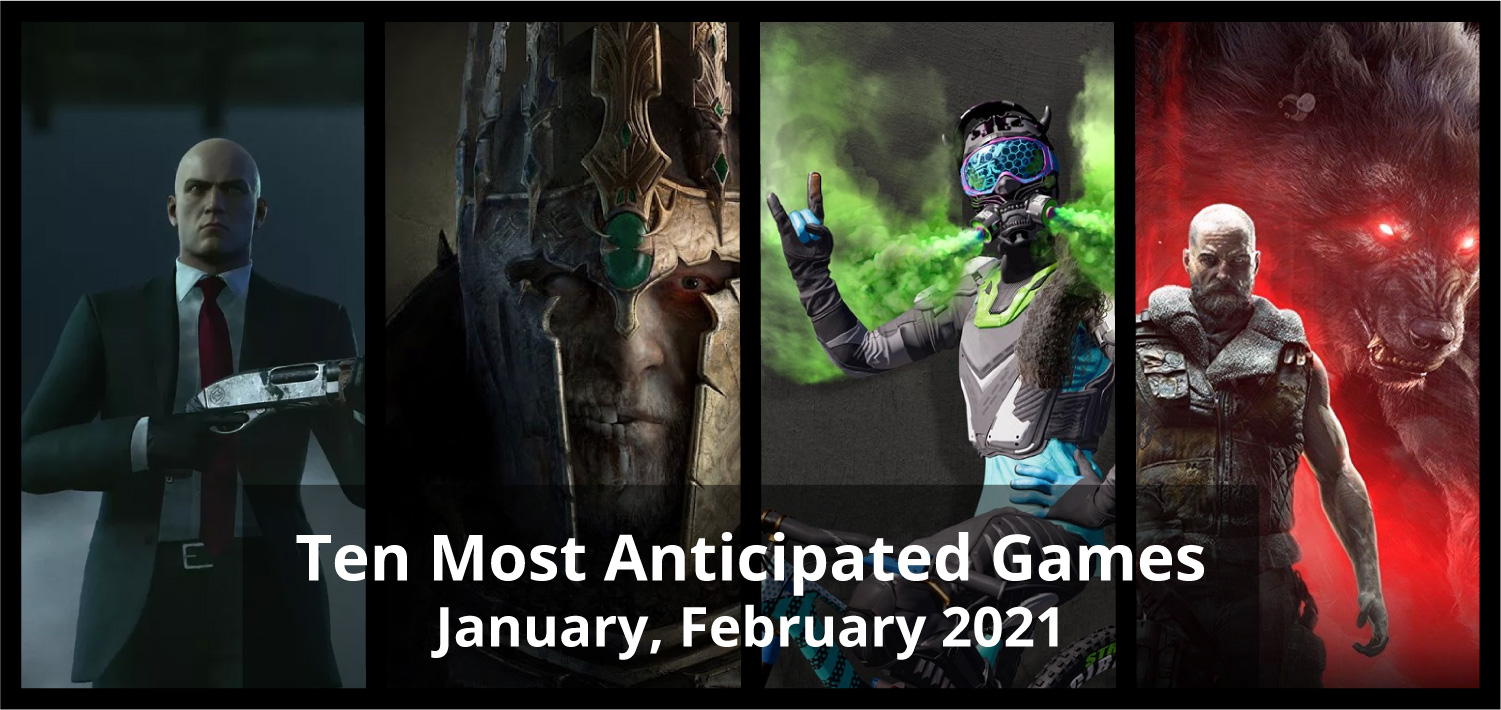 The year 2020 was all about the COVID disease, quarantine, and related measures. However, quite a few highly anticipated games were released at the beginning of the year. This year is no different than any other, as larger studios are still behind schedule. Titles that were postponed to 2021 due to logistical problems will mostly be released later this year. Nevertheless, we have gathered 10 of our most anticipated titles in the first two months of the year 2021.
1. Everspace 2

Everspace was quite a popular space roguelike shooting simulation, where the player could set out to explore the vast universe—at the same time, engaging in shooting at space pirates and hunting prey. Everspace 2 is also a single-player fast-paced space shooter. It focuses on exploration, gathering plants of prey, and classic elements of role-playing games.
The developers provide an exciting story set in a lively, hand-crafted open world full of mystery and danger. One of the new game mechanics is that we can meet potential friends who pull their own history in the campaign. They will join us on side missions and provide certain benefits that will be even more desirable while searching for the next set of enemies' spacecraft.
2. King Arthur: Knight's Tale
King Arthur: Knight's Tale is a turn-based tactical RPG based on Arthur mythology and is a unique hybrid between turn-based tactical games and traditional RPGs. It is a modern narration of King Arthur's classic story, filtered through dark fantasy tropes, a twist of traditional stories about heroic knights and evil witches.
The famous King Arthur will, of course, play the leading role. Giant monsters have settled in England, and it will be up to our knights and us to get the country back to normal. The developer promises 20 main missions and a whole bunch of side quests. Diverse terrain is awaiting us, inhabited by seven enemy camps, more than 50 varieties of enemies, and ten bosses. From a visual point of view, the game looks incredible.
3. Hitman 3
Hitman 3 represents a dramatic conclusion of the world of assassins trilogy. It takes us around the world, where we visit several extensive sandbox locations. Agent 47 returns to some of the most important contracts of his career. With the support of the agency's head, Diane Burnwood, we join forces with long-lost friend Lucas Gray. Our ultimate mission is to eliminate Providence's partners, but we are forced to improvise as attracting more and more attention.
Hitman III features six highly detailed locations full of creative opportunities to silence the unprepared opponent. Hitman has always been known for giving the player the freedom to meet goals, with a wide range of potential approaches. All of this is made possible by award-winning IOI Glacier technology, which offers the Hitman franchise an outstanding choice and the opportunity to replay the game multiple times
4. The Medium
The main draw of the psychological horror game The Medium is jumping between two dimensions. Our hero Marianne has the unique ability to jump into the world of ghosts and explore an alternative dimension. But with another body, she will stay in reality. This is one of the games that will nicely show the benefit of an SSD drive in the Xbox Series X, as we will be able to jump between the two worlds without any loading screen in-between.
Regarding the theme, the game is also quite reminiscent of the legendary Silent Hill titles. Still, in the end, we must not forget that there is an independent development studio behind it, so we must curb our expectations.
5. Gods Will Fall
In the Clever Beans development studio's latest title, we have ten gods to defeat to free humanity from their cruel grip. The brutal rule of the gods over humanity has lasted for millennia. They are prone to cruelty and misery and demand that we serve them with blind worship with an oath of allegiance that every man, woman, and child is forced to swear. Those who do not submit to their will face a slow and relentless death.
We can experience the brutal trials of a western group of warriors in desperate distress to break the gods' senseless grip on humanity. Any man and woman who can wield the blade and have suffered the brutality of the god's rule for too long will be called upon to form our clan of eight surviving Celts. With each decision, a personal fairy tale will be formed. If we succeed, we will experience the birth of legends. But if our feat fails, however, we will be able to watch humanity turn to dust.
6. Wild Terra 2: New Lands
In Wild Terra 2: New Lands, we play our own role in the life cycle of a medieval world controlled by actors. We can decide for ourselves whether we will live in an inhabited territory or conquer new continents in the newly added seasons!
New season. New rules. We may live on the One continent and build, develop, hunt, and explore PvP and PvE areas. But we can go to the New Lands – every season, there will be a new continent with different inhabitants, conditions, rules, and prizes upon completion. For example, we can encounter a continent where there's eternal winter and where the plague has wiped out all the villages, and the surviving inhabitants are hunting people for food. It's interesting to see where the developers manage to bring up the concept, as the first game somehow never experienced wider popularity.
7. Werewolf: The Apocalypse – Earthblood

Werewolf: The Apocalypse – Earthblood is an action video game developed at Cyanide Studios and published at Nacon. It is based on the board game Werewolf: The Apocalypse by White Wolf Publishing and is part of the larger World of Darkness series. The story follows Cahal, an eco-terrorist werewolf who has been banished from his werewolf tribe and is fighting the Pentex Corporation and the pollution this corporation causes.
We cross vast areas in the American Northwest with the ability to transform into a wolf, human, or werewolf to perform various tasks such as exploration, conversation, and combat. We have to master all three forms, but our worst enemy will be ourselves: if we fail to contain our rage, it will destroy us. This rage is the most significant wealth, but also the weakness.
8. Little Nightmares II
Little Nightmares 2 is a surprise-filled adventure game in which we will be able to play as a boy Mono. Mono is trapped in a world, distorted by a signal from a distant tower. He heads there in the company of a girl in a yellow cape. But before we reveal the dark secrets of the tower and save the girl from a horrific fate, they both face many threats from the inhabitants of this dimension.
Along the way, we meet the new residents of this grotesque world, who will disturb our step and sleep. We have to deceive the sadistic Master, survive the encounter with the bloodthirsty Hunter, and make our way past other evil beings. The path takes us from a scary forest to disgusting school buildings and the horrible Signal Tower, from where the evil originates and spreads all over the world.
9. Riders Republic
The action open-world sports game Steep from 2016 got quite good reviews and a large number of fans. However, four years have been a long time in the world of video games, so it should come as no surprise that fans have been calling for a sequel for quite some time now. To witness stunning visuals, a snowy world, and unique charms once again.
The most notable thing about Riders Republic is the focus on the multiplayer community, as up to 50 players will be able to compete simultaneously in various modes and activities, all of which will take place on extremely diverse terrains. The mass races with 50 players are exactly as they sound – a chaotic rush to a finish that promises some truly anarchic events.
10. Nebuchadnezzar
Real-time strategies may have declined in popularity, but that doesn't mean they can't find a niche audience. There are many modern city-builders, such as Anna 1800, Surviving Mars, and of course Cities Skylines, but I will never stop carrying torches for Caesar, Pharaoh, and Zeus. We spent most of my time unraveling resources and production chains, but what we remember most are the huge projects, massive pyramids, and temples that overshadowed the cities beneath them.
We built these cities so that we could then show off with a giant monument. Judging by the trailers, it looks like Nebuchadnezzar could comfortably slip into the series despite a 20-year lag. The Indie Nepos Games developer even managed to catch the aesthetics, even though the city-builders were once a bit more lively and stylized. 
Categories: