As being part of Amazon Associates, we may get paid if you buy something through links on our site.
Ares Galaxy Team
Best Laptop for WoW in 2023 – Top 5 Picks for World of Warcraft: Dragonflight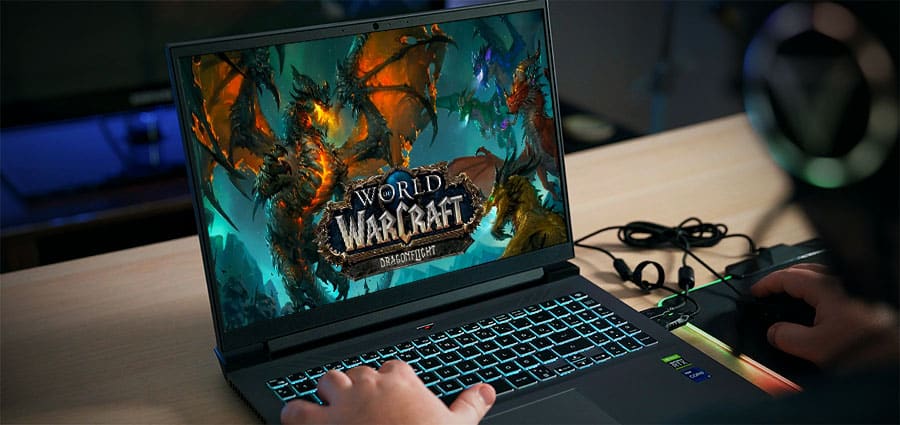 This guide helps you choose the best laptop for WoW. We will review the top 5 gaming laptops on the market capable of running the latest Dragonflight extension and Classic WoW smoothly without any graphics stuttering.
World of Warcraft, a popular massively multiplayer online role-playing game, is a fast-paced, highly competitive game. To provide the greatest possible gaming experience and remain competitive among the millions of other players, WoW must run at the maximum possible frame rate without any visual stuttering, frame dropping, or other issues. Always, when it comes to video games, the higher the number of frames per second (fps) the PC can output to the display, the better.
It's crucial in both PvP and PvE to have flawless real-time rendering at the maximum frame rate possible. The more frames per second you see, the more quickly you can respond. In raids, taking down bosses requires quick reactions and timing. Unfortunately, no matter how skillful you are, you'll never get it perfect as long as terrible visuals and low frame rates interfere with the gameplay.
To help you decide which is the best laptop worth your money, we scoured the market and came up with a shortlist of five. Within each price range, we hand-picked a machine that meets the official WoW system requirements and can thus run WoW smoothly with high framerates.
3. Acer Predator Helios 300
4. Razer Blade 15 Advanced Model
5. ASUS ROG Strix Scar 15
Display
15.6", 144Hz, Full HD, IPS-Level
15.6", 144Hz, Full HD, IPS
15.6", 144Hz, Full HD, IPS
15.6", 165Hz, Full HD, IPS
15.6", 300Hz, Full HD, IPS
Display
15.6", 144Hz, Full HD, IPS-Level
Display
15.6", 144Hz, Full HD, IPS
3. Acer Predator Helios 300
Display
15.6", 144Hz, Full HD, IPS
4. Razer Blade 15 Advanced Model
Display
15.6", 165Hz, Full HD, IPS
5. ASUS ROG Strix Scar 15
Display
15.6", 300Hz, Full HD, IPS
World of Warcraft – Dragonflight System Requirements
From Blizzard Official System Requirements Webpage
MINIMUM REQUIREMENTS
Operating System: Windows 7 64-bit
Processor: 4-Core, 3.0 GHz processor 4th Generation Intel Core Haswell or AMD Ryzen Zen
Video: NVIDIA GeForce GTX 900 series or AMD GCN 4th gen or Intel Iris Xe
Graphics
Memory:
Storage: (SSD) 128GB available space
RECOMMENDED REQUIREMENTS
Operating System: Windows 10 64-bit
Processor: 6-Core, 3.5 GHz processor 8th Generation Intel Core Coffee Lake or AMD Ryzen Zen 2
Video: NVIDIA GeForce RTX or AMD RDNA 2 or Intel Arc 7 Graphics
Memory:
Storage: (SSD) 128GB available space
What are WoW Laptop Requirements?
The laptop hardware is always weaker than the desktop counterparts. Especially the CPU and GPU. The reason comes down to cooling and power consumption. That's why it's recommended to look for a laptop that is at least slightly above the recommended World of Warcraft: Dragonflight system requirements, as they are meant for desktops. This way, even if you crank it up to ultra settings, it still runs at high fps.
What computer parts are important?
The most important computer parts for a decent gaming laptop for WoW are undoubtedly the graphics card (GPU) and processor (CPU). However, there is more to take into consideration…
Graphics Card (or GPU)
Even though WoW is well optimized even for some lower-end systems, it's still an intense 3D game, full of 3d models and effects to render. Especially on higher graphics settings with Ray Tracing enabled. Having an RTX GPU is recommended by Blizzard developers, and all our recommended laptops for WoW have the latest RTX 3000 series of GPUs.
or
for WoW? What is the difference?
The key difference between Nvidia GeForce GTX and Nvidia GeForce RTX is that GTX cards employ the shared Turing architecture for high performance. RTX cards, on the other hand, include RT and Tensor cores and real-time Ray Tracing rendering techniques for great realistic shadows and gameplay.
As from Shadowlands expansion, WoW supports Ray Tracing, which is not supported by Nvidia GeForce GTX. So having an RTX graphics card is recommended if you want to enjoy the best realistic shadows and reflections.
Can you run WoW on
integrated
?
Integrated graphics aren't designed for high-end gaming, so expect to set the graphics settings to the lowest. Low settings may sure make World of Warcraft conditionally playable. But even then, you may expect a very low framerate in dungeons, raids, and major populated areas, which makes WoW pretty much unplayable.
So the answer to the question is yes, you can run WoW on integrated Intel HD Graphics, but with low settings and sluggish framerate. You wouldn't be one of the best players, to be honest.

Processor (or CPU)
General performance depends a lot on the graphics card, but WoW is also very CPU intensive. Especially with maxed settings such as viewing distance. Also, being in crowded cities such as Stormwind or Orgrimmar makes a lot of game state data that your CPU must process.
Everything above the 8th gen Intel Core i7 makes a sufficient CPU for WoW. Stay away from low-end processors such as Intel Celeron, as these processors are not meant for gaming.
or
for WoW?
Whether running WoW on AMD Ryzen or Intel Core processor doesn't really matter, as neither will make much difference if they are within the same processor power range. The most important thing is that the CPU must be within the system requirements.
System Memory or RAM
The minimum amount of RAM to run WoW is 8 GB, but 16 GB is preferable to enjoy smooth gameplay and avoid stuttering. Also, if you do something else on your laptop while gaming, it's best not to run out of memory, it would result in slowing the whole system down.
Display
Regarding resolution: It's simple. The more resolution display has, the more you see. For best gaming experience the recommended resolution is FullHD or 1920 x 1080 pixels. I wouldn't advise you to go below that. They are still laptops on the market with standard 19:9 with only 1366 x 768 px, but I urge you to avoid them as it would be a shame to have a decent gaming laptop with a crappy display.
Refresh rate: Today's dedicated graphics cards are capable of real-time rendering way above 60 fps. To see things more fluently (especially for fast camera movement) and to actually benefit from high frames per second, a refresh rate of a display must be as high as possible. For the smoothest WoW gameplay, conventional 60 Hz (which may be interpreted as 60 fps) displays are not enough, and today we can find laptops with displays capable of up to 300 Hz. At least 120 Hz is recommended.
Screen Size: It depends on how portable you want your laptop to be, but we find 15.6 inches to be just the right. It's no coincidence that 15.6-inch laptops are the most common on the market.
What is a good frame per second for
?
The lowest frame rate at which WoW may still be enjoyed is usually set at 30 FPS. However, 60 FPS+ is generally the ideal target since the game feels more fluid and responsive, and you benefit a lot in competitive games.
Storage
World of Warcraft has become huge during all the expansions and now requires at least 128GB of available space on a Solid State Drive (SSD). That's why it's best to have a 512GB SSD drive since 256GB may be too small if you want other games installed on your system.
Is cooling important
?
To run WoW smoothly, you want your CPU and GPU, both at maximum clock speed. Suppose reaching critical temperatures, the CPU and GPU dynamically under-clock to protect the system from damage due to excessive heat. And when the CPU has to underclock, it will affect the frame rates of a game.
This is why the best gaming laptops have an effective cooling system to prevent the throttling, resulting in fps drop.
---
What is the best laptop for WoW in 2022? Top 5 Picks:
When buying a new gaming laptop for WoW, it very much depends also on your budget. We compiled a list of the best laptops for World of Warcraft that are the best in each price range. Sorted by the price, all the laptops listed here are very well capable of running World of Warcraft – Dragonflight smoothly to enjoy the game to the fullest. They all feature the newest RTX GPUs to support Ray Tracing as well.
ASUS TUF Dash F15
Key Specifications
CPU: i7-11370H | GRAPHICS CARD: NVIDIA GeForce RTX 3050 Ti 4GB GDDR6 VRAM | MEMORY: 8GB DDR4 | DISPLAY: 15.6", 144Hz, Full HD, IPS-Type | STORAGE: 512GB NVMe SSD | OS: Windows 10 Home (free upgrade to Win 11)
The Asus TUF Dash F15 is a great budget gaming laptop with solid hardware, including a Core i7 11th generation CPU and RTX 3050 Ti GPU, making it an excellent laptop for casual gamers and those on a tight budget.
You'll be hard-pressed to find a better deal than the Asus TUF Dash F15 if you want an RTX 30-Series GPU laptop but don't want to spend a lot. Even in the most demanding games, we found that this low-cost system performed as if it was in a considerably higher price range.
There were no signs of overheating during our tests, and we consistently got 60 frames per second or higher on this RTX 3050 Ti gaming laptop.
---
MSI Stealth 15M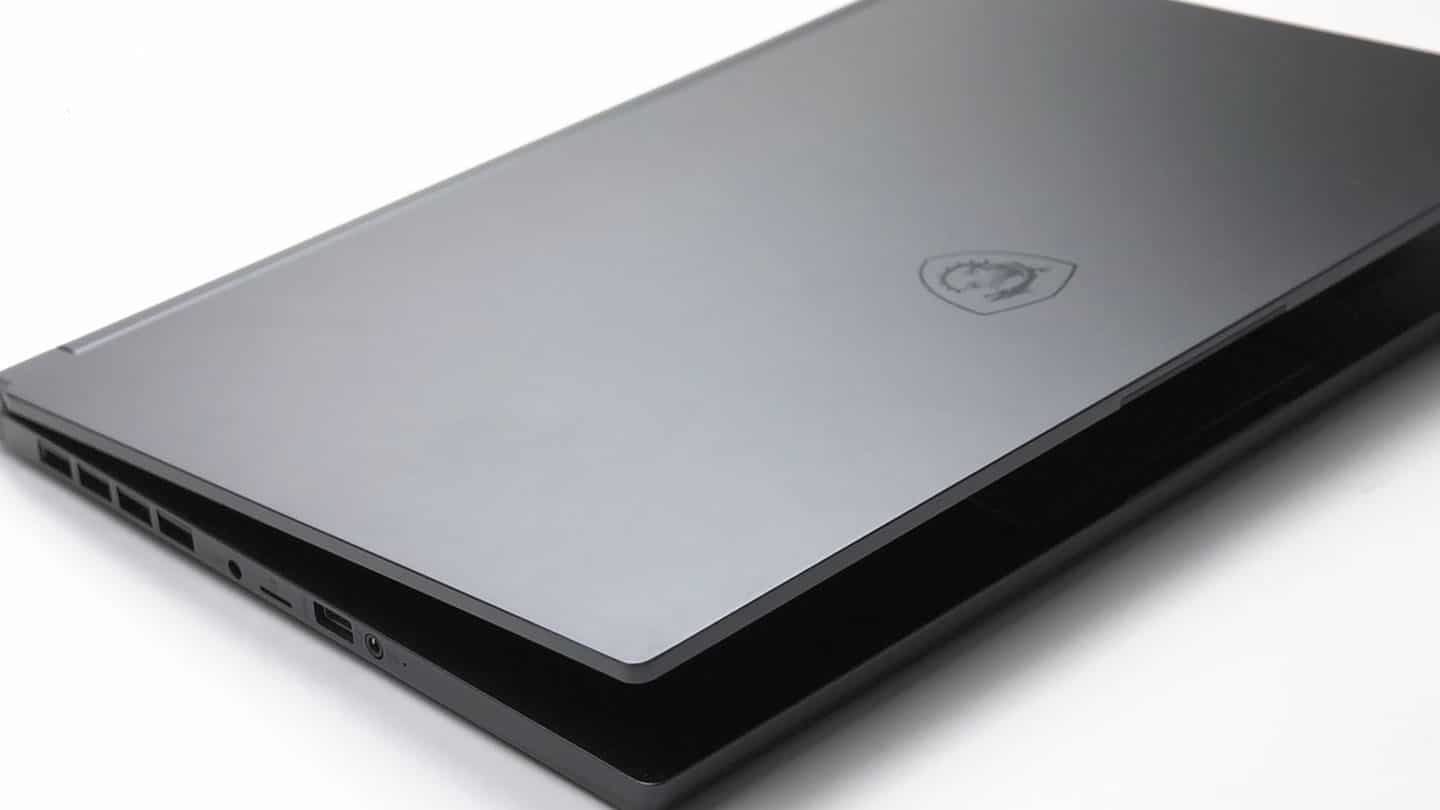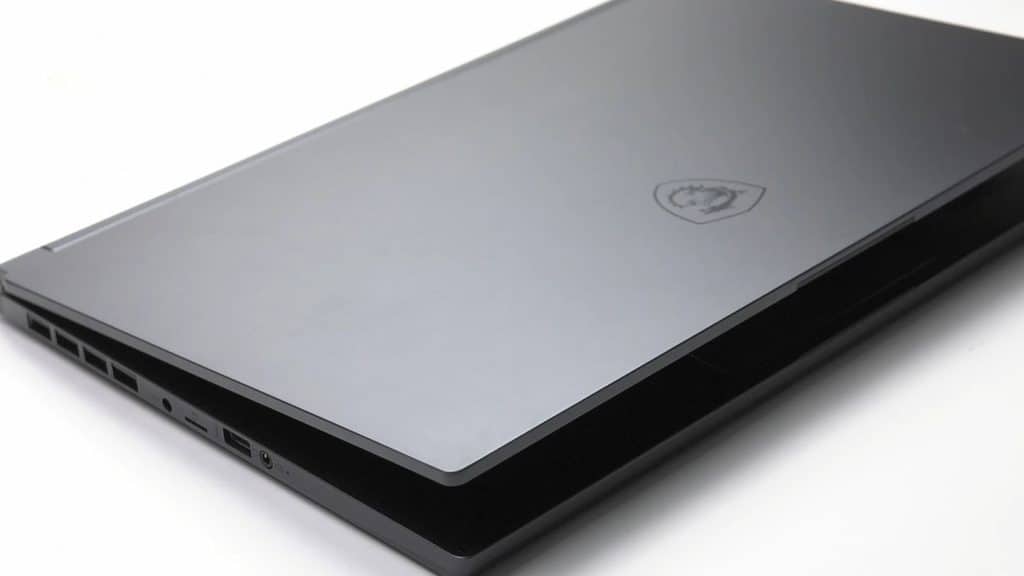 Key Specifications
CPU: i7-11375H | GRAPHICS CARD: NVIDIA GeForce RTX 3060 6GB GDDR6 VRAM | MEMORY: 16GB DDR4 | DISPLAY: 15.6", 144Hz, Full HD, IPS | STORAGE: 512GB NVMe SSD | OS: Windows 10 Home (free upgrade to Win 11)
The MSI Stealth 15M is the latest in a long series of super-portable best gaming laptop prospects. This machine manages to cram some first-rate hardware into a slim chassis while still delivering excellent gaming performance.
The Nvidia GeForce RTX 3060 graphics card delivers buttery smooth performance across a wide variety of games on a 144Hz display.
With that much power under the tiny hood, cooling and battery life are sure to suffer a bit, and the chassis of this machine may get quite hot while gaming.
MSI Stealth 15M is a good option for a gaming laptop that can fit in a bag and carry around easily. Please note that it doesn't have an ethernet port. However, featuring WiFi 6, you won't suffer any unwanted latency. Or you can always use USB->Ethernet dongle.
---
Acer Predator Helios 300
Key Specifications
CPU: i7-11800H | GRAPHICS CARD: NVIDIA GeForce RTX 3060 6GB GDDR6 VRAM | MEMORY: 16GB DDR4 | DISPLAY: 15.6", 144Hz, Full HD, IPS | STORAGE: 512GB NVMe SSD | OS: Windows 11 Home
The Acer Predator Helios 300 is unquestionably one of the most popular and best-selling gaming laptops for the past few years for two straightforward facts. It's affordable, and it's powerful.
Of course, to maintain a relatively low price, there are a few signs where Acer kind of cut corners, the speakers, for example. They are pretty unimpressive. Also, the dual-fan cooling system must be tuned to the max to dispose of the heat effectively.
However, the main thing to focus on here is that this gaming laptop is very powerful for the price. With a powerful 11th Gen. Intel Core i7 and Nvidia Geforce RTX 3060 under the hood, it's powerful enough to run the most demanding games even at the highest graphic settings. It also has a 144Hz refresh rate screen with very accurate color reproduction, which you only see in higher-price range machines.
If you're on a limited budget with the Acer Predator Helios 300, you can't ask for a better deal.
---
Razer Blade 15 Advanced Model
Key Specifications
CPU: i7-11800H | GRAPHICS CARD: NVIDIA GeForce RTX 3070 | MEMORY: 16GB DDR4 | DISPLAY: 15.6″, 165Hz, QHD, IPS-grade | STORAGE: 1TB NVMe SSD | OS: Windows 10 Home (free upgrade to Win 11)
One of the world's best gaming laptops, the Razer Blade 15 Advanced Model, has been revised again. As with its predecessor, it features a stunning CNC-milled aluminum chassis and holds an Nvidia RTX 30-series GPU and an Intel Core i7-11th generation CPU.
When it comes to performance and portability, the Blade 15 may be just what you're searching for. Despite its top-of-the-line processor, GPU, and 165Hz QHD display, the Razer Blade 15 Advanced Model weighs in at just 4.4 pounds and is only 0.62 inches thick, making it an excellent portable 15-inch workstation.
The Blade 15 is not only a great gaming laptop but an excellent productivity machine. Because of its large touchpad and spacious keyboard with per-key RGB illumination, this laptop earns high marks. However, during our playtesting, this Blade became quite hot.
---
ROG Strix Scar 15
Key Specifications
CPU: i9-12900H | GRAPHICS CARD: NVIDIA GeForce RTX 3070 Ti 8GB GDDR6 VRAM | MEMORY: 16GB DDR5 | DISPLAY: 15.6″, 300Hz, Full HD, IPS | STORAGE: 1TB PCIe 4.0 NVMe SSD | OS: Windows 11 Home
The ROG Strix Scar 15 is Asus's top-tier performance/gaming laptop, a full-size 15-inch laptop designed for an uncompromised gaming experience.
It features a near top-of-the-line CPU Intel Core i9 12900H, with 14 total cores and 20 threads and a maxed-out frequency of 5 GHz. Packed with a dedicated Nvidia RTX 3070 Ti GPU that supports Dynamic Boost, it gets you around a 12% performance boost in supported games and applications.
All of that is backed up by 16GB of 4800Mhz DDR5 memory and a super fast 1TB SDD on a PCIe 4.0 bus.
The Asus ROG Strix Scar 15 is a compact full-size laptop that excels in performance and gaming and is one of the better choices in its class.
PROS
Exceptional gaming performance
Solid build and impressive visual appeal with RGB details
CONS
No webcam
Not that lightweight
---
What's the best budget laptop for WoW?
World of Warcraft doesn't have particularly stringent hardware requirements, meaning there are plenty of affordable laptops to run the game just fine.
To answer the question of the best budget laptop for WoW, we must first define "budget." I see lots of debates and arguing online, especially on Reddit, but I would say budget gaming laptops for WoW would reside somewhere between $500 and $1000.
Our main pick would be Acer Nitro 5. Even though it's not the cheapest, it's an affordable gaming laptop with enough power under the hood to run WoW.
All under $500 are considered cheap and certainly not gaming laptops. Still, there may be some exceptions…
What would be the best laptop for WoW under $500?
Even though we recommend gaming laptops to be at least in the $500 to $1000 price range, some cheaper laptops can also run WoW. But not in the highest graphics settings, of course.
The best laptop you can find on Amazon in this price range is Acer Aspire 5. It's Equipped with AMD Ryzen 5 5500U Hexa-Core Mobile Processor and with Radeon Graphics, making him a very affordable laptop for WoW with intermediate gaming performance.
Verdict: What are the best laptops for
?
So to answer question, what is the best laptops for WoW? It pretty much all depends on the budget you are willing to spend on your new World of Warcraft laptop. A good starting point would be meeting at least the recommended system requirements. However, minimum requirements are based on what developers define as playable at the lowest graphic settings values. In contrast, the recommended requirements are what is needed to run a game with decent or best graphical settings with a high enough frame rate for the best gaming experience.
If your budget is limited, stick to our cheapest laptop for WoW in the top 5 list. Otherwise, you may aim for more expensive gaming laptops, so you can crank up graphics settings to the max and still enjoy smooth gameplay with the highest frames per second possible.
Biaggio Valente

Founder / CEO
Information engineer, gaming enthusiast, forklift driver. He's an expert in computer hardware, and no PC or laptop can handle the strain of his rigorous testings.

email: [email protected]