As being part of Amazon Associates, we may get paid if you buy something through links on our site.
Ares Galaxy Team
Fix: World of Warcraft – Modifier Keys Not Working in macOS with Razer Naga Pro
This article discusses the solution to the problem of modifier keys not working in World of Warcraft with Razer Naga Pro gaming mouse in macOS.
The other day I was writing about running World of Warcraft on my new MacBook Pro M1. With my existing Corsair SCIMITAR PRO RGB MMO gaming mouse, it makes a perfect portable combo for playing WoW wherever I go.
But after a while, I just got fed up with all the wires and dongles as the Scimitar mouse is neither wireless nor has the USB Type-C connector. So I thought it would be nice to have a wireless MMO gaming mouse.
After a bit of researching, I gave a shot to a Razer Naga Pro. And I'm glad I did.
Razer Naga Pro
The Naga Pro is one of, if not the best, MMO mice I've tried. It feels well-made and is very enjoyable to use. It has many configuration options, thanks to three hot-swappable button layouts.
The Razer Naga Pro is incredibly versatile regarding connectivity. You can connect to it either through Bluetooth, Razer™ HyperSpeed Wireless 2.4GHz USB dongle or with included Speedflex Cable.
Unfortunately, Razer offers no support for Synaptics 3.0 in macOS. Too bad there is no love for MacOS from Razer :). However, we can still configure the mouse on some other Windows PC. The settings are then saved on the device.
Problem: World of Warcraft (macOS) Modifier Keys Not Working
Razer Naga Pro is my 3rd MMO gaming mouse with a 12-button thumb grid. I always use an addon called Bartender4, a full ActionBar replacement addon. It allows me to reshape action bars into a 3×4 grid to match the buttons grid on Razer Naga Pro.
To have more than 12 spells available within my right thumb's reach, I have two 3×4 action bar grids. The key binds for the first grid in simply 1, 2, 3 … On my best laptop for WoW where I play, I access the second action bar with a modifier Alt + 1, 2, 3 …
Since the Alt key on Windows machine is in the same position as the Command key on Apple Macs, I want to have key bindings for the second action bar as Command key (⌘) + 1, 2, 3 …
But it won't work out of the box. The Command key is not recognized, nor is any other modifier key. However, after searching the web, I found a solution:
Solution
Open Terminal. You find it under /Applications/Utilities/.
Type in the following line and press Enter.

defaults write com.blizzard.worldofwarcraft disable-expose-fix -bool YES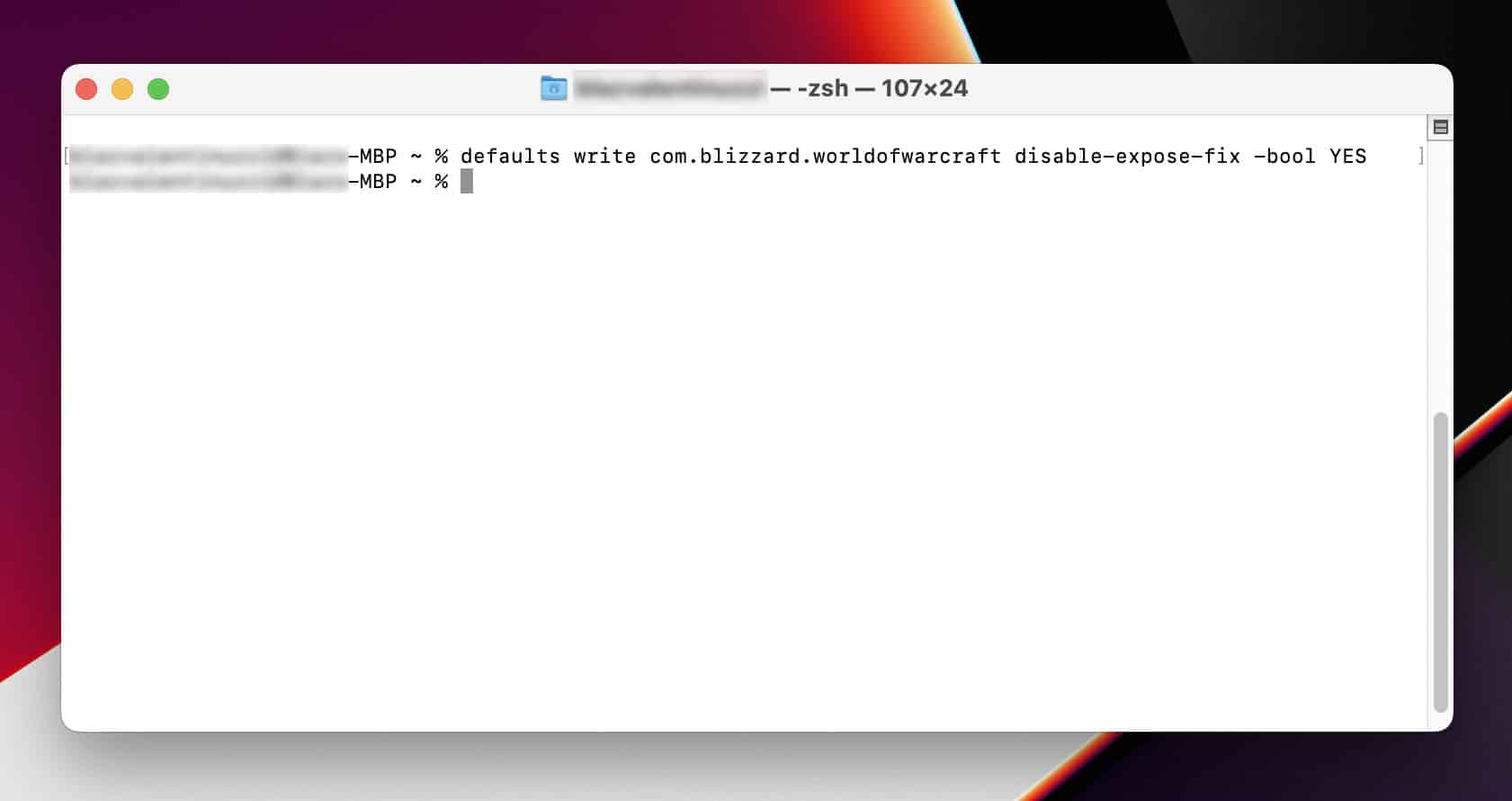 Quit Terminal, and now you should be able to set up key bindings with a Command key (⌘) or any other modifier.
I hope this information has spared you some of your hair. 😉
Have fun.
Biaggio Valente

Founder / CEO
Information engineer, gaming enthusiast, forklift driver. He's an expert in computer hardware, and no PC or laptop can handle the strain of his rigorous testings.

email: [email protected]